At yesterday's terrific conference on Lectio Divina, the keynote presenter, Trappist Brother Simeon Levia, monk of
Saint Joseph's Abbey
, Spencer, MA, gave an incredible talk on doing the work of Lectio Divina at a conference on Lectio sponsored by Mario Paredes and his staff at the
American Bible Society
. Brother Simeon is an established Catholic thinker.
One central aspect of Brother Simeon's talk was his development of 9 qualities of Lectio Divina. Please note, lectio divina is not the exclusive domain of professional religious, that is, the exclusive use of monks and nuns, even though a lot of artwork often limits itself to portraying monks doing lectio. My notes are an expansion of what he said about doing lectio divina: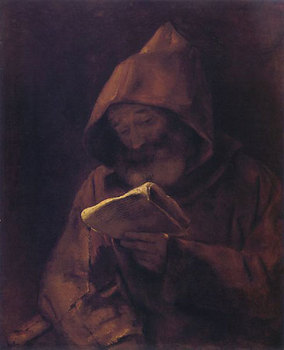 1. It's done
leisurely
, it is not a rushed process: give at least 30 minutes. There's an open-endedness of doing lectio; it's to be done in a slow manner, not achievement or goal oriented. You might want to read Josef Pieper's seminal book,
Leisure: The Basis of Culture
. By doing lectio in a leisurely manner one activates the deepest levels of the human heart opening the heart up to its potentiality. Brother Simeon said something crucial for me: doing lectio in a leisurely manner you return to Paradise where there's an original delight in all things --God, His Presence, ourselves, the Other. Brother noted that in this category we are able to build "islands of leisure for all" in that we cultivate healthy relationships. Remembering that we are made for the other --be it for life in the Trinity and the other person-- and not to cultivate healthy relationships we are prone to die. Pertinent, therefore, is to ask the question: How do I spend my free time and take delight in that time? With a style of life that prizes the use of time, how we use our time is a sacrifice. Time is a precious gift from God. If you are inclined to do things out of obligation: forget it. Moralisms don't work here.
2. It's ruminative, that is, you turn over and over in mind a word or an image like a cow chews her cud. One's ruminating on words and images means that you stay close to the text until you deplete for the moment the energy of that word and/or image. Brother Simeon advocates our attention to the language (the grammar) of the text. Here words are important,not just ideas. If you possible you would compare different translations of the Scriptural passage, and if you really skilled, you'd consult with the Latin and Greek texts. There's no reductive choice of words for this work.
3. Lectio is cordial. There's a freedom of the heart to follow its own instincts. The point here is to allow the flourishing of the language of the heart to work over the language of the logic of reasoning. Brother Simeon used the image of a "logic of fire" where sparks ignite flames that illuminate a path. A cordial reading of Scripture doesn't allow the historical critical method to run one's prayer (the aims of HCM and Lectio Divina are not same); Lection is about something that is new, unique and at a deeper of awareness.
4. Lectio is contemplative, that is, lectio is "the listening heart." "Contemplation" is a much misunderstood and abused word. It is needs to be liberated by some much clutter, let me tell you. When you think of contemplation you ought to think of being receptive to the transcendent. As tell the students in the Catechesis of the Good Shepherd the language that God most often uses is silence to express Himself. How much more do need to remind ourselves that silence needs to be cultivated in order to know, love and serve God. Into greater silence we should walk into if we are going to cut sin and falsehood.
Think of what Saint Paul said: "Now if the ministry of death, carved in letters on stone, was so glorious that the Israelites could not look intently at the face of Moses because of its glory that was going to fade, how much more will the ministry of the Spirit be glorious? For if the ministry of condemnation was glorious, the ministry of righteousness will abound much more in glory. Indeed, what was going to fade was glorious, how much more will what endures be glorious" (2 Cor. 3: 6-8).
5. It's disinterested: there's no predetermined goal or skills to be learned or analysis to be made. At this point the there's no goal that's not produced in freedom; the fruitfulness of the word is not known in the apostolate but in prayer. The apostolate for so many is more important than adoring the Word. No apostolic work will be fruitful if not grounded and sustained in lectio and prayer.
6. Lectio is provocative. With the prayerful reading of Scripture we're not looking for a soothing by-product. The provocative nature of lectio means that our reading ought to take us out of our comfort zone. Scripture should make us a little --perhaps a lot in some cases-- uncomfortable. Scripture's provocative nature makes us sacrifice our preconceptions and ideologies opening us up to new mentality, an new attitude by which we judge reality. As Brother said, "God seeks to call us out of hiding." Think of God calling Adam from his hiding place where he demurs: I am naked.
7. Lectio is necessarily and crucially ecclesial. Our ability to encounter God through Lectio Divina is an act of gratitude. It is the Church who is the owner and guardian of Scripture. We receive the Scriptures from the sacred Liturgy in its proclaimed and written form and seen in the context of its historical, grace-filled (liturgical) and eschatological planes. The heart and mind of the Church is respected because the Bible is a gift of the Holy Spirit. When we say that lectio is ecclesial we also mean that it is inherently Christological and Marian. How could one read and pray with the Scriptures without thinking about it being Christo-centric: what converges is the reality of knowing who Christ is and how the Father sees his Son. Lectio is Marian because the Word is conceived in her womb, and Mary pondered the word in her heart. It is through Mary that we learn how to be silent, adoring, and faithful to God coming to humanity. Mary is the first church that lives the word in all its fullness.
8. Lectio is trans-biblical. This is a unique word formed by Brother Simeon by which he indicates that we are to allow the texts breath freely. Since the sacred Scripture reveals the hidden face of God in a unique and definitive manner. Allowing the Scriptures to live on their own, divine revelation is manifested according to the heart of God. Moreover, the sense here is that the Bible interprets itself: every part completes other parts.
9. Finally, lectio is mystagogical. Here is where lectio merits the adjective "divina." The subjective is transformed by the objectivity and freedom of Grace. It is here that lectio divina realizes itself in its missio, its fruitfulness. The work done at this point can be expressed in this way: we become a living exegesis of the Word. The disciple learns from the Spirit on how to put on the mind of Christ; the Incarnation is born anew today. Recall: the Liturgy reminds us that today the Paschal Mystery has happened, today we are saved; today we are brought into intimacy with the crucified and risen Savior. And where does this happen: in me.
How close am I close to Christ? How close is Christ to me? With mystagogy the disciple recognizes the Lord in Word, Sacrament and prayer. Knowledge, therefore, loves to be fruitful. Lectio that lives in this point knows in the deepest parts of the the soul a modest foretaste of heaven.