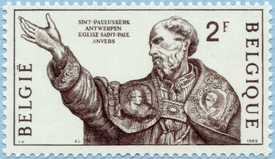 The learned will shine like the brilliance of the firmament, and those who train many in the ways of justice will sparkle like the stars for all eternity.
(ent. ant.)
God of truth, You endowed our brother Albert with the gift of combining human wisdom with divine faith. May the pursuit of all human knowledge lead to a greater knowledge and love of You.
History is a Catholic "thing": the Middle Ages weren't so intellectually dark as some people say. Proof of this thesis is the presence of the Dominican priest, bishop, natural scientist and philosopher Albert the Great (1200-80). He was a known authority on the sciences and he posited that the earth was a sphere 200 years before Columbus "discovered" America. He also theorized that weather is determined by a person's latitude. All of this information is taken for granted today but in the 13th century this was truly new information, revolutionary, in fact.
He abandoned his family's station in life, studied at the University of Padua, joined the brand new Order of Friars Preachers, studied at Paris, and was an interested party promoting Aristotle. Albert was the superior of one of the houses of studies where the young Thomas Aquinas lived and is credited for setting Thomas on his way to be an intellectual giant. In 1254, Albert was elected the Prior Provincial of the German Province of Dominicans and in 1260 Pope Alexander IV nominated Albert the Bishop of Regensburg. He was prodigious author (at least 40 volumes of thought) to the point that Albert's contemporaries called him the universal doctor and the Church bestowed the title of Doctor of the Church.
Albert was canonized in 1931.