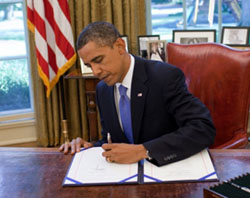 President Obama revised 2001 faith based initiatives established by President George W. Bush with "
Fundamental Principles and Policymaking Criteria for Partnerships with Faith-Based and Other Neighborhood Organizations
" on November 17, 2010.
Catholic organizations like Catholic Charities, hospitals, clinics, assisted living organizations, adoption agencies would do well to review their policies and practices to see if the present policies cohere with what the President has set down in the executive order since there are some serious potential conflicts. Serious points of contention will likely be around the providing of religious services, counseling rooted in faith and to what degree you can apply pastoral practice to the workings of the agency. The secularists are already jumping for joy with the new amendments because they want more restrictive policies and stringent policies of accountability for the use of monies and practices by faith-based organizations. Having said all this, though, clarity of what can and cannot be done are helpful since they establish rules of engagement. Clear to all reasonable minded people, religious freedom needs to be respected. And we Catholics will hear more about religious freedom in 2011 with Pope Benedict addressing the issue of religious freedom at significant events like world youth day. The Pope is very clear that we propose and not impose our faith in Christ, even with those who claim to be Christians.
Obama's "Fundamental Principals" for neighborhood organizations and agencies administering programs funded with federal monies envisions:
effective and efficient delivery of services;
all agencies providing social services benefit, even those built on religious tenets;
equal opportunity for all religions in agencies receiving federal monies;
no discrimination against beneficiaries based on doctrine;
enforcement and supervision of agencies to ensure equal availability to services;
if there explicit religious services in a location that delivers services with federal monies, it must provide these services at different times and locations, and attendance in these services is completely voluntary;
religious organization may have religious programs in their facilities but can't develop or sustain them with federal funds, keeping independence between church and government; religious images will not be required to be removed or religious based names changed;
as a "protection for beneficiaries" if an agency of social service receives an objection to services that agency would, in a timely manner, refer the objector to another agency and report the referral to the government;
in an accessible manner online, all "regulations, guidance documents, and policies that reflect or elaborate fundamental principles described...." Plus, "Agencies shall also post online a list of entities that receive Federal financial assistance for provision of social service programs, consistent with law and pursuant to guidance..." all in order to promote transparency and accountability;
all decisions are to be free from political interference viz. religion;
no new benefits were intended or create any right or benefit with this order.
The White House's publication of the
executive order can be read here
.
Though seen as minor improvements to the original set of initiatives, they are seen as overbearing if not outright burdensome by others. Time will tell. But one has to ask whether it is necessary to receive federal money for Catholic social service agencies, e.g., Catholic Charities, and whether the identity and mission of agencies like Catholic Charities will be compromised with these new regulations. On one hand, some of these principles seem like no-brainers, while others seem to make life slightly more complicated to fulfill a faith-based mission if a particular is particularly observant in matters of belief and pastoral practice.
Some problems that may happen are such conflicts with Catholic hospitals and clinics being forced to administer contraception, provide IVF, abortion, euthanasia practices, and the like. Or Catholic organizations may be forced to provide adoption services to people understood to be not capable of being good parents based on sexual orientation or living out of wedlock. I can foresee people attempting to force Catholic social agencies to administer services that are against Catholic teaching and pastoral practice in attempt to embarrass the Church and/or to force Catholic agencies to forego federal monies based on heavy burdens in the reporting of referrals.