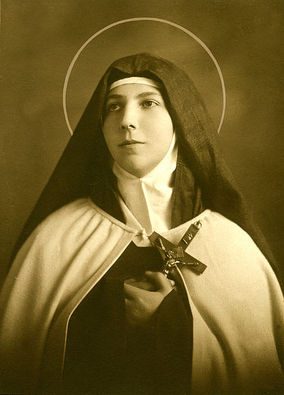 On the liturgical ordo of the Carmelite Order today is the feast of the relatively unknown saint outside some circles (on the Roman ordo today's saint is memorialized on April 12). Saint Teresa of Jesus of the Andes was born on July 13, 1900 and died on April 12, 1920 and having spent only 11 months as a Carmelite nun.
Baptized Juanita Fernandez Solar she took the name Teresa of Jesus of the Andes. Teresa of Jesus was the first Chilean to be canonized. She is today, a model for young people. The Church concerned for holiness proposes to us today this beautiful, young and "unaccomplished" saint as a perfect model for our journey.
The spiritual autobiography, if as compelling as the Little Flower's, can have a profound influence on someone (think also of St Teresa Benedicta of the Cross who was influenced by St Teresa of Avila), so much so that the young Teresa entered the Discalced Carmelite monastery of the Andes on May 7, 1919.
At Santiago de Chile Pope John Paul II beatified Teresa of Jesus on April 3, 1987 and the Pope later canonized her on March 21, 1993. Her brother Luis attended the beatification. Teresa is also the Discalced Carmelite nun to be canonized outside of Europe and the 4th "Teresa" of the Carmel Order to be canonized.