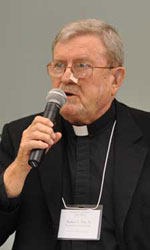 The Roman Catholic and Eastern Orthodox churches should own up to their past misdeeds and work to restore communion, according to Archimandrite Robert F. Taft, SJ.
Fr. Taft, a Jesuit priest of the New England Province and professor emeritus of the history of Byzantine Liturgy at the Pontifical Oriental Institute in Rome, said that the rift between the churches was sustained primarily by offensive actions--not theological differences. He delivered "Perceptions and Realities in Orthodox-Catholic Relations Today," on June 28 at Fordham University.
"The main problem that we Catholics and Orthodox face in our ecumenical dialogue is not doctrine but behavior," Fr. Taft said. "The issue is not that Catholics and Orthodox do not know how to pray and believe and live Christianity in the right and true apostolic way. The problem is that we do not know how to act."
He pointed to Catholic "uniatism"--aggression against another church--as a major problem blocking fruitful dialogue between the religions. He added that although the Orthodox faith has been victimized, it also refuses to admit its own misdeeds.
Fr. Taft advocated a system of "ecumenical scholarship and theology"--a new way to study Christian tradition that seeks to reconcile and unite, rather than to confute and dominate. To accomplish this, the Catholic and Orthodox churches must recognize one another as historic apostolic sister churches, he said.
The point of this new ecumenical theology is not that Catholics and Orthodox never disagree. "What it does mean, is that at the official level, disagreements can be discussed truthfully and courteously, without invective, rudeness, and slander," Fr. Taft said. [Fordham University]