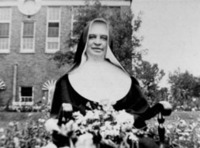 Among the decrees promulgated by Archbishop Angelo Amato, SDB, Prefect of the Congregation for Saints, is the recognition of heroic virtue of the Servant of God Maria Kaupas (in history Casimira Kaupas). She founded the Congregation of Sisters of Saint Casimir, in Scranton, PA, on August 29, 1907.
Casimira Kaupas was born in Ramygala, Lithuania on January 6, 1880 and died in Chicago on April 17, 1940. She faced bone cancer for eight years.
Now, this foundress will be known as the Venerable Servant of God Maria Kaupas. The next step is to identify and verify a miracle so that she can be beatified.