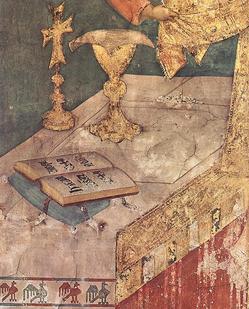 Have you ever thought of Pope Benedict XVI's liturgical "style"? Or have you asked yourself, "What does Pope Benedict think about the sacred Liturgy?" Or have you asked yourself, "Do I know what the meaning of Catholic Liturgy is for the Church?
Good
. I want you to ask these questions because I want to encourage you to read some good things on the Liturgy and not the crap you generally find in the NCR or America Magazine. You can read longer works of Ratzinger's like
A New Song for the Lord
,
The Feast of Faith
,
The Spirit of the Liturgy
,
Looking Again at the Question of the Liturgy with Cardinal Ratzinger
,
God and the World
(Ch. 17), among others.