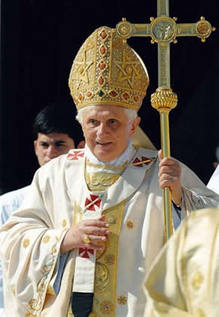 Given the recent problems for the Church in Germany, not to mention the USA, Netherlands, England and Ireland, I think we should offer a daily prayer for the Holy Father, Pope Benedict XVI. Confidently we can say that the current events weigh heavy on his heart; accusations and verifiable incidents of sexual and physical abuse by clergy is a dreadful experience to live through, especially if the problems are rampant in the Church, particularly with a brother being in the middle of controversy. Plus, Benedict turns 83 on April 16 and begins his 5th year as Pontiff on April 19. The prayer below use Psalm 40:3 for its content; there is a partial indulgence* attached the prayers.
V. Let us pray for our Sovereign Pontiff, Benedict.
R. The Lord preserve him, and give him life, and make him blessed upon the earth, and deliver him not up to the will of his enemies.
O God, Shepherd and Ruler of all Thy faithful people, look mercifully upon Thy servant Benedict, whom Thou hast chosen as shepherd to preside over Thy Church. Grant him, we beseech Thee, that by his word and example, he may edify hose over whom he hath charge, so that together with the flock committed to him, may he attain everlasting life. Through Christ our Lord. Amen.
Our Father, Hail Mary and Glory be.
*The indulgence is given to those who in a spirit of filial devotion devoutly recite any duly approved prayer (as in above) for the Pope.