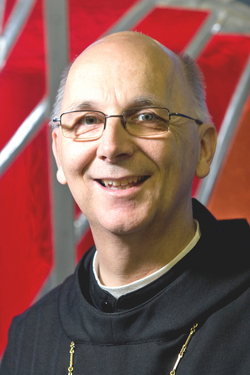 Abbot Dr. Marian Eleganti, 54, until now the Abbot of the Abbey of Saint Otmasberg (Abtei St. Otmarsberg), has been nominated by the Holy Father to be an auxiliary bishop of the Diocese of Chur, Switzerland. He was elected abbot of his monastery on 15 July 1999 and in 2003 defended a doctoral dissertation on Romano Guardini at the University of Salzburg. Abbot Marian speaks seven languages and is a published author.
The Abbey of Saint Otmasberg belongs to the Congregation of Saint Ottilien, a grouping of missionary Benedictine monks who take vows to a particular monastery as other monks do, but since mission work is their common apostolate, monks are assigned from various monasteries for this mission work in monasteries in other parts of the world. This congregation of monks have a slightly different understanding of the monastic of stability but no less vital for monasticism and for the Church. There are two monasteries of the Congregation of Saint Ottilien in the USA: Saint Paul's Abbey (Newton, NJ) and Christ the King Priory (Schuyler, NE).
Bishop-elect Marian is one of 32 Benedictine monks ordained to the episcopacy worldwide.
May God grant many years to Bishop-elect Marian and may Saint Ambrose sustain the bishop with his prayers. So, we pray for Abbot Marian and for his Benedictine community who will now prepare to elect a new abbot.