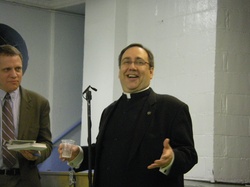 Meeting "blog personalities" is always fun, especially meeting a popular blogging priest. Father John Zuhlsdorf writes the blog,
What Does The Really Say
? He's an affable priest with a good sense of humor and a good thinker. He celebrated a Solemn Requiem Mass in the Extraordinary Form for First Friday at the beautiful
Church of the Guardian Angels
(NYC). The particular intention for the Mass was for deceased priests.
The priesthood is the love of the heart of Jesus
In his homily, Father Zuhlsdorf spoke about the priesthood as the result of the outpouring of love of the Sacred Heart of Jesus. Mindful of the human condition and the Incarnation, we have Perfect Love choosing imperfect men to be priests to preach the Gospel and to celebrate the sacraments. And because the priest is a normal human being with the normal failings as other men, we know the imperfect minister needs conversion. Our job is to beg for God's mercy upon our priests, living and deceased, as an act of love for the priests. Priests are fallible, sinful human beings like everyone else and yet they are called by God to serve Him as priests for the good of His people. It is an awesome thing to consider that our souls are fed by priests, some of whom are worthy ministers of the Lord and some not. Nevertheless, the effectiveness of a priest's ministry does not depend on the state of his soul (something part of our doctrine since the time of Saint Augustine).
We believe that two sacraments give permanent character to our souls that lasts into eternity: Baptism and Holy Orders. So, when a priest dies his soul is recognized as a priestly soul in heaven by God and whole heavenly court. The priesthood, therefore, does not end on the day when the priest's body dies.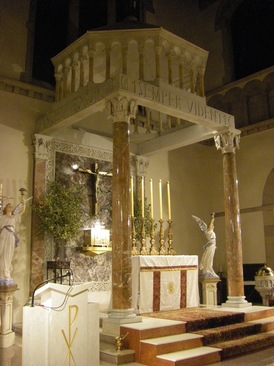 In this Year for Priests, indeed even outside of this special year, we ought to care for the priests who serve our parishes and other ministries in concrete ways. We ought to pray for the souls of the priests who have died, too. I am particularly thinking of the priests and bishops who gave us new Life in Christ through the sacraments of Baptism, Confirmation, Eucharist and Penance, and the other sacraments as applicable.
I have an immense sense of gratitude for the faith I received from the priest who baptized me, the bishop who confirmed me, the priests who heard my confessions and gave me the Body of Christ.
Could we offer a prayer once a day during November for the deceased priests we knew? After November, could we offer a prayer for the priests at least once a month in the years to come?