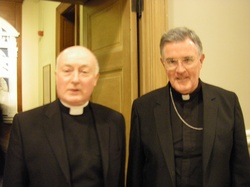 The life we lead is based on the influences we have. For some, like Father George Rutler, John Newman and John Vianney are two such influences. George Rutler, a priest of the Archdiocese of New York and pastor of the Church of Our Saviour (NYC) gave the Terrence Cardinal Cooke Theology Lecture tonight at Saint Joseph's Seminary. Himself a convert, author, TV personality tried to dispel the florid presentations of the saint which detach reality from the soul. John Vianney (8 May 1786 - 4 August 1859) knew himself well as a farm boy who desired to serve the Lord as a priest in love. What ought to be resisted when thinking about Vianney is sugar coating his ministry and manner of living. His was not a life akin to pouring molasses on roast beef. The saint, in Catholic theology and as reminded by Rutler, is a person who shows us that living the gospel is possible, that conversion is possible, that real, self-giving love is possible because the saint shows us Christ. And since Christianity is not speculation but fact, the fact of the saint is a testament to the reality of Christ today.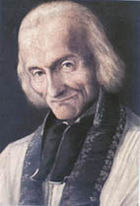 Saint John Vianney loved his people in substantial ways: he revealed Christ to them and allowed Christ to speak through his priestly life in ways that challenged each person to take more seriously the desires of their heart and their state of life. Vianney was direct when it came to sin and sinful ways; he was devoted to the humanity of those whom he encountered, and he responded as Christ would if someone presented himself. Vianney may have been a poor student and a man of little sophistication as judged by the world, but he was a brilliant disciple of the Lord who acted like a shepherd for the flock. Like the apostle who is known for his zeal, the martyr his patience, the virgin her purity and the confessor his intellect, Vianney is known for his love. Can we model our lives accordingly?
Nearly 125 people attended the lecture tonight.