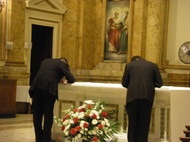 Tonight 7 men made the Profession of Faith and the Oath of Fidelity (which I encourage you too read) at Vespers. These 7 men will be ordained to the Order of Deacon tomorrow here in the Saint Joseph Seminary Chapel by Bishop Dennis Joseph Sullivan, VG, auxiliary bishop of New York: James H. Ferreira, George LaGrutta, Steven R. Markantonis, Fredy P. Montoya, Thomas Roslak, Enrique J. Salvo, Daniel P. Tuite.
Please keep these men in your prayers and sacrifices tomorrow and in year ahead as they prepare for ordination as priest on 15 May 2010 for service in the Archdiocese of New York by Archbishop Timothy P. Dolan, PhD.
Our Lady of Dunwoodie, cause of our joy, pray for us.
Saint Joseph, pray for us.
Saints John Vianney, Pio of Pietrelcina, John Eudes, pray for us.