World Meeting of the Families 2009
The family, teacher of human and Christian values
January 13-18
Mexico City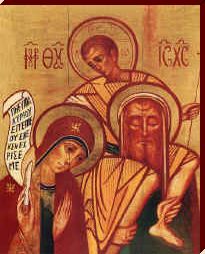 Our God, indivisible Trinity, you created the human being "in your image" and You admirably formed him as male and female that so together, united and in reciprocal collaboration with love, they fulfilled Your project of "being fecund and dominate the Earth"; We pray to You for all our families that so, finding in You their initial inspiration and model, that is fully expressed in the Holy Family of Nazareth, can live the human and Christian values that are necessary to consolidate and sustain the love experience and to be the foundations of a more human and Christian construction of our society.
We pray to You for the intercession of Mary, our Mother, and Saint Joseph. For Jesus Christ our Lord. Amen.
A video about the Pope's participation in this magnificent event is seen here.