Nuns find peace on a farm near Virginia Dale. They tend to gardens, they do maintenance, they even herd cattle. But most of all, they pray.
By Erin Frustaci
Fort Collines Now
About 35 miles northwest of Fort Collins, life is quiet, peaceful and contemplative--a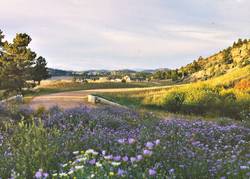 contrast from the fast-paced consumer-driven lifestyle found in other parts of the world. Tucked among rocky foothills and fresh country air, the tiny town of Virginia Dale is all but forgotten.

And yet, there is a certain timelessness for those who call it home. The natural landscape, free of distractions, serves as the perfect backdrop for a community of about 20 Benedictine nuns of the Roman Catholic Church whose life work and mission is prayer.

"The focus is not on all life's accessories, but on life itself," Mother Maria-Michael Newe said.

Despite the complexity of the modern world where people are attached to their Blackberries, email and iPods, Maria-Michael believes there is still a need for simplicity and peacefulness in society.

"I think people are seeking this, they are just afraid of it," she said. "They are so used to being busy that they are not used to sitting still in the quietness."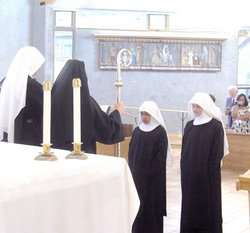 The nuns, who range from 23 to 93 years old and come from all over the world, build their days around the seven-day services which make up what is called the Divine Office or the Liturgy of the Hours. Maria-Michael said the premise is to be prepared at all times to praise God. And if the volume of mail, email and phone calls for prayer requests is any indication, their work is greatly appreciated.
Throughout the day a chorus of voices chanting prayers can be heard from the chapel. At other times the stillness and deep quietness reverberates all around. Then there are also more unconventional sounds of the Abbey: An 89-year old nun weeding her flower gardens, an industrial mixer blending cookie dough for fresh homemade cookies, a green Gator's engine starting as three young nuns prepare to heard cattle to a different barn.

The nuns work within the monastery and valley to support themselves. They divide up daily housekeeping tasks including cooking, cleaning, laundry and maintenance, as well as operate a gift shop that sells religious books and handmade cards and craft items. They also run a small online altar bread distributing business.

As a cloistered community, they only go outside for necessary business purposes such as grocery shopping or doctor appointments. Tuesdays are usually the days when select nuns make a trip down to Fort Collins to run errands.

"Work is a blessing," Newe said. "It's such a joy when you can bring home the gifts of God and help sustain the table."

Following in the footsteps of their pioneer sisters, the nuns also are active ranchers. They run a herd of beef cattle, grow hay, collect eggs from the chickens, milk the cows and tend to the vegetable gardens.

The Abbey of St. Walburga relocated to Virginia Dale in 1997 after outgrowing its former location in Boulder. When the abbey first came to Boulder in the 1930s, the area was spacious and open. But as the city built out with busy highways and new subdivisions, an expansion of the abbey became problematic. The nuns spent several years looking for a new home. A Denver businessman and his wife eventually donated the land in Virginia Dale to them.

It's a much different way of life, but one that is rewarding for those who are meant to live it, the nuns said. Contrary to misconceptions and pop-culture movies like Sister Act, Newe said the community is not a shelter for people who are running away from their problems. In fact, she said the women who join monasteries do it because they are called in that direction.

"You have to be mature enough to live in a community and yet be alone," Newe said.
A typical day begins promptly at 4:50 a.m. with Matins, or vigils. More prayer sessions, including Lauds, follow. From 9-11:30 a.m. the women are dispersed throughout the property for the first work session of the day.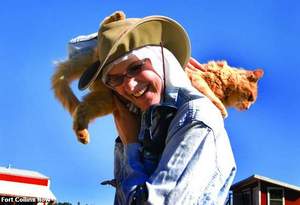 Many of them change into denim overalls to work on the farm, though they still wear the traditional veils. On Tuesday this week Sister Maria Gertrude Read, 23, and Sister Maria Josepha Hombrebueno, 30, spent the morning painting the fence by the farm a vivid red. The fall is busy time for maintenance in preparation for winter.

"We've been painting it bit by bit," Read said. "We've been doing it for a couple weeks."

Read just made her temporary vows two weeks ago. She has been in the Abbey for three years.

"I felt called to some kind of religious life," she said.

She grew up in Boulder and was raised Catholic. However, she said it wasn't as meaningful to her when she was younger. When she was 14 years old, she had a specific experience while at a church summer camp when she knew she wanted to become a nun. Before that, she said she had pictured nuns as scary.

"It was this push," she said. "It was a transforming moment. My whole life changed after that."

She began looking at different monasteries and then decided to look closer to home. She admits that she could have gotten married and had a "normal job," but it wouldn't have been the same.

"I don't think it's fair to say I wouldn't have been happy somewhere else, but I wouldn't have had the same fullness and joy."

At 11:30 a.m. Sister Maria Gertrude and Sister Maria Josepha quickly cleaned up from their painting project and slipped back into their black habits, the traditional religious costumes or robes. After another prayer session in the chapel, the nuns gather for their formal meal at noon.

"When you live in a community, you really have to serve each other. You have t," Newe said.

During that time, scripture is also read aloud. After the meal, the nuns have quiet time, where they can rest, go for a walk or spend private time praying. The afternoon is dedicated to classes for the younger women and another session of work before afternoon and evening prayers.

Most women begin their quest by visiting a monastery. Once they decide it is something they want to pursue, they become a candidate for about the first three months. After that, she will receive a postulant veil and remain a postulant for about nine months. During that time, the woman studies the Benedictine rule, traditions and ways of prayer. From there, she will become a novice for two years. At the end of that period she will make her first vows of obedience, stability and fidelity to the monastic life. After another three years, she will make her solemn perpetual vows.

Sister Raisa Avila, 22, is in the earlier stages of discernment, having only been at the abbey for about a year. She is a postulant.

"It's a lifelong commitment, so you want to make sure," she said.

Avila is originally from Vancouver, B.C., in Canada. She was born and raised catholic but didn't take it seriously until she was faced with challenges. She was in school and had a different life, but she knew there was more out there for her.

"My love for God drew me here," she said.

She attended a monastic living weekend at an abbey in Canada and was hooked. But Avila admits the path wasn't always smooth. The transition into the lifestyle at the abbey has been challenging, Avila admits.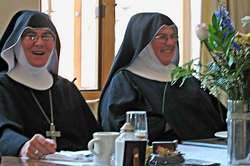 "I'm still human," she said. "I cried when I left home. I missed my family, but at the same time, you have to make sacrifices."

She said God has brought her through the tough times. She said she eagerly looks forward to the next stages of the process. Avila has also learned more about farming than she could have ever imagined. Though she did not grow up on a farm, she now greets the cows and llamas as if it were second nature.

During her afternoon work last Tuesday, she helped two other sisters heard the cattle to get them ready to be sold in an auction in Centennial. With a smile on her face, she then headed back into the chapel.

The abbey has become a place for prayer for the nuns as well as volunteers and people outside of the community.

"Our place really is a house of prayer. You don't have to be catholic to pray here," Mother Maria-Michael Newe said.

And while there are areas of the abbey that are cloistered such as the dining and living quarters, the public is invited to visit much of the property. In fact, the nuns run a retreat house on the property where groups and individuals can spend some time away for a set fee. The retreat house, which can fit about 23 people, is designed to offer quiet withdrawal from the busy noise of the ordinary home and work world.

Newe said prayer can be a hefty job at times, but it is also extremely rewarding. She said she often receives prayer requests for troubled relationships, illnesses and financial struggles. She is happy to take the requests because she said it is part of her duty.

"Somewhere in the world someone is needing that prayer," Newe said. "And we take them and their cause to heart. It's a work of love."