As you know, the Benedictine Abbots and Abbesses met in Rome in September. and there was a meeting of the Benedictines with the Holy Father. I posted the Holy Father's address already and now I am offering the Abbot Primate's address for your consideration. I am most grateful to Father Abbot Primate Notker for sharing the English translation of his remarks.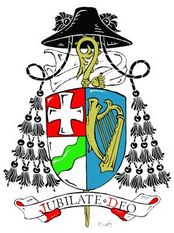 Address of the Abbot Primate on the Occasion of the Audience with the Holy Father on 20th September 2008, at Castelgandolfo
Holy Father,
Every four years we, the Benedictine Abbots, come to Rome to celebrate our International Congress. We reflect on the impact of Saint Benedict's spiritual patrimony on the world of today, we discuss our common project, that is, Sant'Anselmo as a monastic and academic entity. We have also invited representatives of the 'Communio Internationalis Benedictinarum', of the Orthodox Churches and of the Anglican Benedictines. Today, we have come to Castelgandolfo to greet you, to listen to your words and to receive your blessing. We come to you with the greatest sense of esteem and gratitude.
One of your great desires is the rebirth of a Christian Europe on the basis of Saint Benedict's principles. We hope that our monasteries may be spritiual and cultural centres which will strongly influence their surroundings. Many people, both young and grown-up, come to our monasteries and join us in prayer and in the liturgy. The welcoming of guests in our monasteries and retreat houses, or the welcoming of students in our schools is our contribution towards the Church's witness and a deepening of the Faith.
This is true not only in Europe but all over the world. 150.000 young people are being educated in our schools. To help this work, we have established a network among those responsible in order more effectively to develop our Benedictine profile.
Already for centuries Benedictine monasteries have been growing outside of Europe, as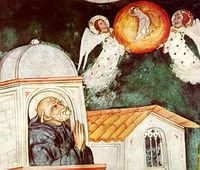 you will have noticed in Brazil. Today, in an era of globalisation, Saint Benedict's message is spreading throuhghout the world. Every year more than four new foundations are made, in Eastern Europe and as far away as Kazakhstan. Shortly, there will be a new foundation in Cuba. The official Church in China has sent a group of young priests to Sankt Ottilien to be formed as Benedictines with a view to starting a community in this country so dear to your heart.
We have no reason to be dissatisfied. In some parts of the world, such as Asia and Africa, there are many vocations, and even in Europe they are not lacking. But some communities have been waiting for years for new members and do not know what the future holds. For this reason some houses will be forced to close. Where there are no children and there is no faith the seed-ground for vocations does not exist.
Sant'Anselmo with its Pontifical Athenaeum and Pontifical College plays a particular role. In the last century, Sant'Anselmo was the unifying centre of formation, of contact and of common life for the many monastic observances and nations. At this time of globalisation Sant'Anselmo has become even more important in furthering the unity of the Confederation. For this reason we are grateful to you for having finally clarified the issue of the ownwership of Sant'Anselmo, by granting us officially the free use of the property. With the Pontifical Liturgical Institute we make a special contribution to the Universal Church.
In recent years there has been a growing interest among many laypeople anxious to conduct their lives in accordance with the spirit of the Rule of Saint Benedict. Always attached to a specific monastic community, they try to witness in the world that, only be being rooted in God can they develop the fulness of a truly human life. We have already celebrated one World Congress of Oblates where experiences were shared on an international level and new courage and zeal built up. At present we are preparing the second such Congress.
I should not like to conclude without mentioning our sisters, that is our Benedictine nuns and sisters. They bear witness in a special way in the heart of the Church to the contemplative element and to service of the poor. Their number is double that of the monks but they live a more hidden life than the monks. Together we try to carry on the precious patrimony of Our Holy Father Saint Benedict, the Patron of Europe, but who in the future, like Abraham, may come to be called 'the Father of many peoples'.
Holy Father, once again we thank you for this generous meeting and humbly ask your paternal blessing.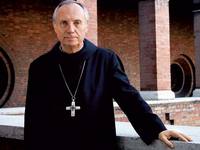 +Notker Wolf OSB
Abbot Primate