Oh Beauty exceeding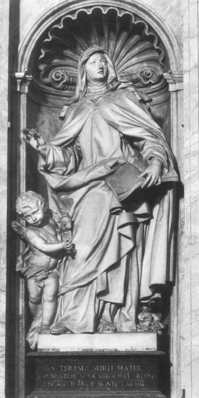 All other beauties!
Paining, but You wound not
Free of pain You destroy
The love of creatures.
Oh, knot that binds
Two so different,
Why do You become unbound
For when held fast You strengthen
Making injuries seem good.
Bind the one without being
With being unending;
Finish, without finishing,
Love, without having to love,
Magnify our nothingness.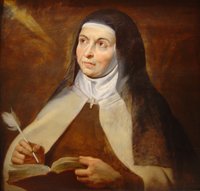 The Interior Castle is the principal source of mature Teresian thought on the spiritual life in its integrity. Chief emphasis is laid on the life of prayer, but other elements (the apostolate, for example) are also treated. The interior castle is the soul, in the center of which dwells the Trinity. Growth in prayer enables the individual to enter into deeper intimacy with God--signified by a progressive journey through the apartments (or mansions) of the castle from the outermost to the luminous center. When a man has attained union with God in the degree permitted to him in this world, he is "at the center" of himself; in other words, he has integrity as a child of God and as a human being. Each of the apartments of the castle is distinguished by a different stage in the evolution of prayer, with its consequent effects upon every other phase of the life of the individual. (from an essay by a Carmelite nun, Austria)
Graciously hear us, O God, our Savior, that as we rejoice in the festival of blessed Teresa, Thy Virgin, so may we be fed by her heavenly teaching and be strengthened in the love of true piety.