I was curious as to how many people responded to the Lord's call to serve Him as a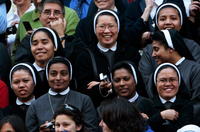 consecrated religious (being a sister, a nun or a priest) this summer. The Anchoress made a similar report on August 18; visit her blog for more info. Here is a sampling of those who took vows, promises or were invested with the habit in last calendar year.
St. Benedict's Abbey: 1 professed simple vows; 1 professed solemn vows; 1 clothed in the habit.

St. Mary's Abbey: 1 ordained to the priesthood; 1 postulant
St. Louis Abbey: 1 solemn profession; 3 clothed in the habit; 1 claustral oblate
Mary, Help of Christians Abbey (Belmont Abbey): 1 first profession; 2 clothed in the habit
St. Meinrad Archabbey: 1 solemn vows; 3 postulants
St. Vincent Archabbey: 2 solemn professions; 4 first professions; 5 clothed in the habit; 2 ordained to the diaconate
Monastero San Benedetto: 1 solemn vows; 2 novices; 3 postulants; 1 ordination to the priesthood
Franciscan Friars of the Renewal: 7 novices; 10 first professions; 7 perpetual professions; 2 priests and 2 deacons ordained
Province of St. Joseph (the Dominicans): 11 clothed in the habit
A NEW congregation: Maronite Servants of Christ the Light: 1 sister and many more to come!
Sisters of Christian Charity: 1 first profession; 3 novices; 3 postulants
Congregation of St. Cecilia: 18 entered postulancy; 12 first vows; 8 renewed their vows; 11 made final vows; 6 clothed in the habit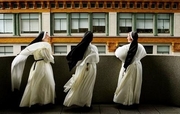 Mary, Mother of the Eucharist: 14 first professions; 8 received the habit; 8 made final profession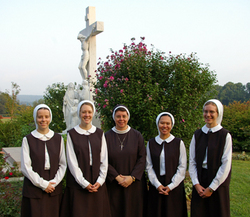 Apostles of the Sacred Heart: 2 first professions; 2 vow renewals; 1 clothed in the habit
Queen of Peace Monastery: 1 first profession; 1 postulant
Sisters of St. Francis of the Martyr St. George : 3 postulants; 4 clothed in the habit; 6 professions; 22 Junior sisters; and an undetermined number making final vows in 2009
Valley of Our Lady Monastery (Cistercian nuns): 5 novices, 3 postulants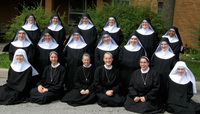 Benedictines of Mary, Queen of Apostles: 4 postulants, 2 novices
Dear friends, life is not governed by chance; it is not random. Your very existence has been willed by God, blessed and given a purpose (cf. Gen 1:28)! Life is not just a succession of events or experiences, helpful though many of them are. It is a search for the true, the good and the beautiful. It is to this end that we make our choices; it is for this that we exercise our freedom; it is in this - in truth, in goodness, and in beauty - that we find happiness and joy. Do not be fooled by those who see you as just another consumer in a market of undifferentiated possibilities, where choice itself becomes the good, novelty usurps beauty, and subjective experience displaces truth.
Pope Benedict XVI, WYD Australia, 2008