O God, who for the defense of the Catholic faith and to restore all things in Christ, filled saint Pius, the supreme Pontiff, with heavenly wisdom and apostolic strength; mercifully grant that following his teaching and example, we may attain to our eternal reward. Through Christ our Lord.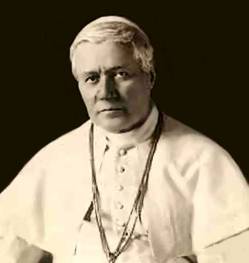 Born 2 June 1835
Ordained priest 18 September 1858
Ordained bishop 20 November 1884
Created cardinal 12 June 1983
Appointed to Venice 15 June 1893
Elected Pope 4 August 1903
Died 20 August 1914
Beatified 3 June 1951
Canonized 29 May 1954
A beautiful, but brief description of the person of Saint Pius was written by Adrienne von Speyer, in Book of All Saints. This book was recently published by Ignatius Press and it would make a great addition to your library.