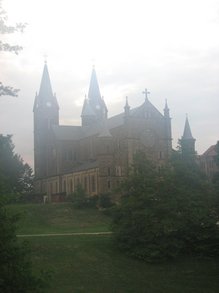 A long tradition of some Benedictine monasteries is the profession of solemn vows on August 15, the Solemnity of the Assumption of the Blessed Virgin Mary. Benedictines take vows of obedience, stability, and conversion, that is, fidelity to the monastic way of life. At the Archabbey of Saint Meinrad the tradition continues to be observed.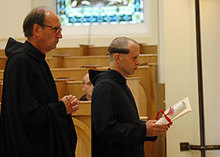 Today at the Archabbey of Saint Meinrad,

Brother Martin professed his solemn vows before God, Archabbot Justin, the monks of the archabbey and friends. Notice the corona worn by Brother Martin.

Familiarity with the Word, which the Benedictine Rule guarantees by reserving much time for it in the daily schedule, will not fail to instill serene trust, to cast aside false security and to root in the soul a vivid sense of the total lordship of God. The monk is thus protected from convenient or utilitarian interpretations of Scripture and brought to an ever deeper awareness of human weakness, in which God's power shines brightly. ~Pope John Paul II

May God grant Brother Martin many years!