My Dear Brothers
and Sisters in Christ,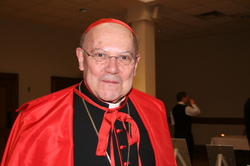 The Ordination to the Priesthood of our three friends,
Andrew Burnham, John Broadhurst and Keith Newton, is an occasion of great joy
both for them and for the wider Church. I had very much wished to be present
with you in Westminster Cathedral today in order to demonstrate my own personal
support for them as they make this important step. Unfortunately, however, a
long standing commitment of the Congregation for the Doctrine of the Faith to
meet with the Bishops and theologians of India in Bangalore has meant that I am
unable to be in London today. I am very happy, therefore, to have the
opportunity of sending this message and am grateful to Archbishop Nichols for
agreeing to represent me and for his willingness to deliver my best wishes.