Suscipe me secundum eloquium tuum, et vivam, et non confundas me ab exspectatione mea. (Psalm 118)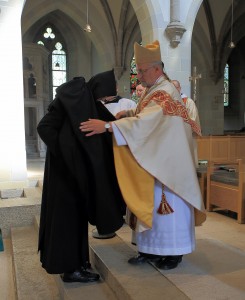 Each year at about this time I have published a list of those who have risked everything to follow Jesus Christ more closely as a priest, deacon, monk, friars, nun, or sister. I think it is a good thing to keep this information in front of us, especially as it concerns how each of prays, fasts and financially support  vocations in the Church. Our Christian life helps us to see the need for such witnesses and each of us participates through our good example, by inviting others (even ourselves?) to consider serving the Lord and the Church in this "more excellent" way and by assisting by of the good works.
Let us pray with the psalmist, "The just grow tall like palm trees, majestic like the cedars of Lebanon. They flourish in God's house, green and heavy with fruit" (Ps 92).
"What counts is to be permeated by the love of Christ, to let oneself be led by the Holy Spirit and to graft one's own life onto the tree of life," the Lord's cross, Pope Francis said on July 7.
What follows is an imperfect collection of information; if there are updates, please zap me an email.
PAX!
Monastic life
monks
English Congregation
Swiss-American Congregation
Subiaco Congregation
American Cassinese Congregation
Other monastic foundations
nuns
women