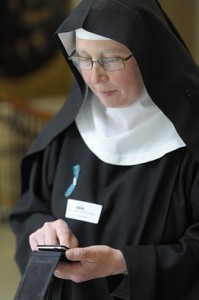 Can you believe that Benedictines can do anything in addition to prayer, and more prayer? Well, I hope so. Benedictines and nuns to boot, have given the world lots of innovative things that continue to use today. For example, writing, singing different forms of music, social communications, different forms of alcohol, etc.
The Benedictines are always interesting people, whether in the 9th century, 18th century or the 21st century. Sister Catherine Wybourne, OSB, and the nuns of Holy Trinity Monastery (Howton Grove, Herefordshire, UK).
Sister Catherine is the prioress of the Benedictine nuns at this small monastery with competencies in the secular world and in the world of God and the Church.
Sister Catherine and the nuns of Holy Trinity Monastery engage us on level of faith formation, the Benedictine Charism and social communications. Her disposability for the sake of Christ's Gospel and His Church.
Listen to Laura Lynch's interview of Sister Catherine. You won't be disappointed.
And if you are still interested in social media and the search of God, or least the perspective of this Benedictine nun, Dame Catherine, may I suggest:
"How Many iPhone Developers Wear Wimples?" (WSJ, May 2, 2011)
Prayer and Work (1994) with Dom Columba Cary-Elwes (who by the way is the founding prior of St Louis Abbey)