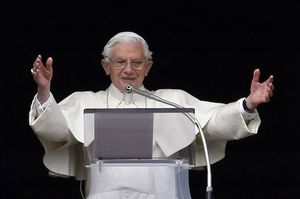 This is Pope Benedict's final Angelus address as the Supreme Pontiff of the one, holy, catholic and apostolic Church. Notice the imagery he uses: the climbing the mountain and "once you've met Christ, why come down to pain?" The Pope has a new vocation: to live in adoration of Christ.
On the second Sunday of Lent, the liturgy always presents us with the Gospel of the Transfiguration of the Lord. The evangelist Luke places particular emphasis on the fact that Jesus was transfigured as he prayed: his is a profound experience of relationship with the Father during a sort of spiritual retreat that Jesus lives on a high mountain in the company of Peter, James and John , the three disciples always present in moments of divine manifestation of the Master (Luke 5:10, 8.51, 9.28).
The Lord, who shortly before had foretold his death and resurrection (9:22), offers his disciples a foretaste of his glory. And even in the Transfiguration, as in baptism, we hear the voice of the Heavenly Father, "This is my Son, the Chosen One listen to him" (9:35). The presence of Moses and Elijah, representing the Law and the Prophets of the Old Covenant, it is highly significant: the whole history of the Alliance is focused on Him, the Christ, who accomplishes a new "exodus" (9:31) , not to the promised land as in the time of Moses, but to Heaven. Peter's words: "Master, it is good that we are here" (9.33) represents the impossible attempt to stop this mystical experience. St. Augustine says: "[Peter] … on the mountain … had Christ as the food of the soul. Why should he come down to return to the labors and pains, while up there he was full of feelings of holy love for God that inspired in him a holy conduct? "(Sermon 78.3).