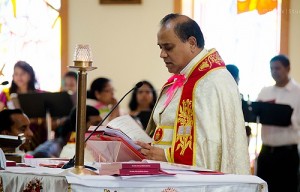 I awoke today to read that His Holiness, Pope Francis, nominated a friend and former colleague to be an auxiliary bishop for the Syro-Malabarese Eparchy of Saint Thomas the Apostle of Chicago. Father Joy Alappat, 57, the current rector of Mar Thoma Sleeha Cathedral in Bellwood, IL, takes on a new ministry: the first auxiliary bishop for the Syro-Malabar Catholic Church in the USA.
The Syro-Malabar Catholic Church is a fast growing Eastern Catholic Church which follows the East Syrian liturgical tradition; it would be a cousin to the Chaldean (Iraqi) Catholic Church. Often this Church is referred to as the Thomas Christians.
Born in Kerala, in 1956 the bishop-elect was ordained a priest of the Syro-Malabar Eparchy of Irinjalakuda in 1981. Following graduate studies and ministry in India, Father Joy came to the US in 1993 and served as a hospital chaplain at Georgetown University Hospital (1999-2002). Father Alappat worked in New Milford, CT, and Newark and Garfield, NJ.
The Church to which the bishop-elect belongs number about 4 million worldwide, largely in India; it is the second largest Eastern Catholic Church. In the USA, the Malabars  have one eparchy,  St. Thomas the Apostle of Chicago led by Bishop Jacob Angadiath, the first bishop of the eparchy. The official 2010 stats indicated that the eparchy serves 86,000 faithful, with 37 diocesan priests, 10 religious priests, and 18 parishes.
The date of Fr. Alappat's episocopal consecration has yet to be determined.
May Saint Thomas richly bless my friend, Father Joy, as he takes up the cross of being a bishop in Christ's vineyard.