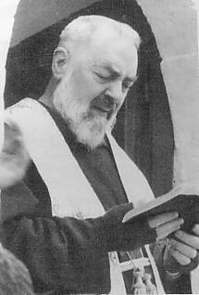 The blogger at "The Hermeneutic of Continuity," Father Tim
Finigan, posted a YouTube video clip of Saint Pio of Pietrelcina showing some rare footage. It is a very delightful video of the saint with his Capuchin brothers. Padre Pio is a favorite saint who died in 1968; watching him brings to life a new experience.

Father Tim notes that "At the end, they are obviously teasing him about the camera and he hits the cameraman with his cincture. We see him in the refectory and in the Church, and there are scenes
of his brothers dealing with the massive postbag which he generated." Finigan also notes the footage of Saint Pio celebrating the Mass.
One thing I notice is that the Capuchin priests all cover their hoods when vested for Mass -as they are supposed to do. Too often covering the hood with an amice is not done not only by Franciscans but the Dominicans; the acolyte serves the Mass with a surplice and hood uncovered. A piece of liturgical observance.