The abbey has an apple orchard though there are plum and peach trees, too. St. Mary's Abbey moved from Newark to Morristown in 1927 and the apple orchard was planted in the early 1940's. And from the looks of it, some trees may be about 60 years old and still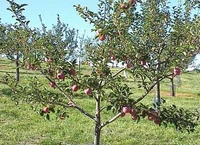 producing fruit.
The orchard has been under the care of Abbot Brian, the retired 7th abbot of St. Mary's Abbey, for about 30+ years. As St. Paul said, if you don't work you don't eat; so I work because I like to eat. For the monk working has two aspects: the work of the soul (the Divine Office and Mass) and the work of the hand. Since Abbot Brian is away–and I like working outside in a garden –I've been spending time in the orchard cutting back weeds around the trees and the fence line. Good work to do because it keeps me connected to the land. I also think it's in my blood since my paternal grandfather, Julius, was a farmer (and he worked for US steel) but my dear father claims not to have gotten THAT gene. That's evident at home when he mows the lawn and "cares" for my flowers. In any event, time in the orchard brings memories of my grandfather to mind in many ways. For instance, the fact that I am working in an orchard reminds me of his NY farm, there is a 1947 Ford tractor used here and grandpa had the exact same one, and there's the presence of honey bees, fox and deer. More on the bees later….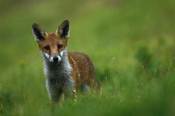 Tonight after Vigils (Office of Readings) I went to the orchard to pray my rosary –as I am wont to do because of the scenery. With St. Fiacre at my side and praying the Sorrowful Mysteries of the rosary, I had some unexpected company: a red fox and 4 deer. Oh, thank God for nature!