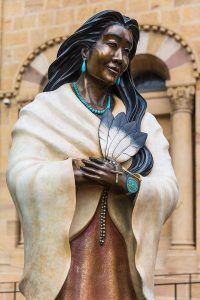 Today the Church in the USA liturgically remember one of her own, Kateri Tekakwitha, the first Native American woman proposed for canonization. In fact, she is the fourth Native American person to be venerated by the Church. Saint Juan Diego and two other Oaxacan Indians are indigenous peoples accorded the honor of religious veneration.
Kateri Tekakwitha was the daughter of a Christian Algonquin woman captured by Iroquois and married to a non-Christian Mohawk chief. Kateri was orphaned during a smallpox epidemic, which left her with a scarred face and impaired eyesight. She converted and was baptized in 1676 by Jesuit Father Jacques de Lamberville. As a convert at  nineteen, she was renamed Kateri, baptized to honor the great saint,  Catherine of Siena.
Her biography reveals that Kateri was shunned and abused by relatives for her faith who witheld food from her on Sundays and stoned her when she entered the chapel, Kateri then escaped through 200 miles of wilderness to the Christian Native American village of Sault-Sainte-Marie (near Montreal).
As a young girl, Kateri took a vow of chastity in 1679 and held a spirituality and austere lifestyle. Hers was a life of prayer, mortification and works of charity. Tekakwitha's notable value for chastity, she is often referred to as a lily, (Lily of the Mohwaks) a traditional symbol of purity.
He final words were, "Jesus, Mary, I love you!" After he death her grave became a pilgrimage site and place of miracles for Christian Native Americans and French colonists.
Our saint's tomb reads: Kateri Tekakwitha -Ownkeonweke Katsitsiio Teonsitsianekaron- The fairest flower that ever bloomed among red people.
As a friend said, may she "who sees through difficulty" intercede for us.