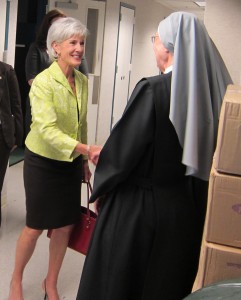 Last night on EWTN's program, "The World Over," two Little Sisters of the Poor and their lawyer were in the studio for an interview with Raymond Arroyo.
As it turns out, in the green room of the studios Kathleen Sibelius was likewise in studio for an interview with another show. What irony! It was a cordial chanced meeting. AND, Sibelius is familiar with the LSP since her days growing up in Cincinnati.
The Little Sisters of the Poor are in danger of closing their ministry with the implementation of the HHS mandate. With the help of a Becket Fund attorney, Mark Reinzi, the Little Sisters are suing the government in a class action suit. Several hundred other Catholic ministries are at risk.
The government offends conscience and religious freedom.
Sister Constance Veit and Provincial Sister  Loraine Marie Maguire are standing up for all of us Catholics. This lawsuit is a justice issue.
The Little Sisters of the Poor were founded 174 years ago by Saint Jean Jugan. They have a vow of hospitality. The care offered is specialized for those at the end of life.
The LSP run homes for the poor elderly in 31 countries caring for 13,000 people; there are 30 homes in the USA with 2500 residents. In the USA, we have 300 LSP. What's at stake? Financially the penalties $100 a day fine and $2 million a year per home. Half the budget is covered by raising money.