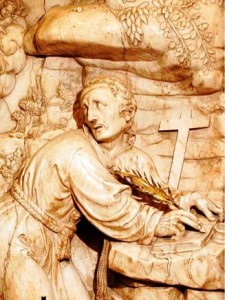 The Church liturgically recalls for us one of the Master's of the spiritual life, Saint Ignatius of Loyola. The Pilgrim died in 1556 and was the author of the Spiritual Exercises and founder of the Society of Jesus.
It may be a little early to speak of a commemoration for the 500th anniversary of the Spiritual Exercises, but it may be good to keep this anniversary in mind. 2022 is the year when we will study and live the foundational experiences of Ignatius in Manresa. This picture shows Ignatius in awe in meeting the Lord as he writes his religious experience that gave rise to him following his vocation with prayerful  intensity. Do we have a similar conviction as Ignatius?

This 2008 animation of an Olive, gives a sense of the life Saint Ignatius of Loyola, written, produced and narrated by Jason Kapell of the Fairfield University Media Center. It is nicely done –remember it is short and sweet with a Spanish Olive narrating.