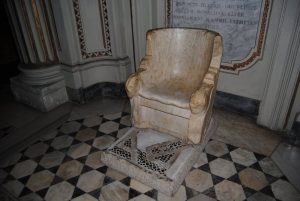 Today is the feast of Saint Gregory the Great, monk and Roman Pontiff. In the Mass Collects for Saint Gregory there is reference to truth and charity. The connection is inseparable to the point of being real clear for our own apostolic life.
Here is a picture of the Throne of Pope Saint Gregory the Great inside his former home now called the Church of San Gregorio on Clelian Hill, Rome. The throne is a visible sign of the teaching authority of the Pontiff. Several years I had the chance to sit in the chair for a brief second. And guess what: I am still not a pontiff. There is a message here don't you think?
The Clelian Hill monastery has a colony of Benedictine Camaldolese monks with a convent  the Missionaries of Charity next door.
Saint Gregory pray for Pope Francis, and for us.