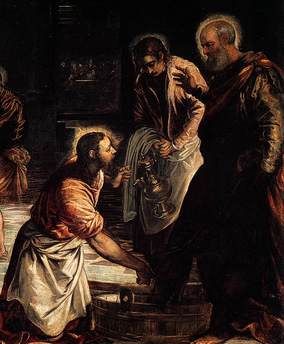 One of the themes from Oblate retreat this past weekend was humility. And from within the Gospel and Saint Benedict's vision of humility Brother John Mark spoke about love and fraternal relations, particularly rubbing elbows in true charity with your brother and sister in community. A stone is only polished when it meets other stones.
Pope Benedict brings up the human desire to be in community with other other people: how good it is for brothers and sisters to live in unity, St Paul says. But this unity and love have one condition: "You will love your neighbor as yourself" (Romans 13:8-10). Some take this point as an easy thing to do. I assure you, it is not. This past Sunday's Scripture readings teach this point.
In his Rule, Saint Benedict places a strong emphasis on mutual responsibility ("a reciporcal responsibility" the Pope calls it) and charity toward the other person is lived only in a personal way. Benedict XVI argues as Saint Benedict did before him, "that there is a co-responsibility in the journey of the Christian life: everyone, conscious of his own limits and defects, is called to welcome fraternal correction and to help others with this particular service [of forgiveness and healing injuries].