When the Pope came into the Paul VI Hall he was greeted with lots of people which is typical, but there seemed to be more than c. 8000 people in attendance. The outpouring of affection was evident. Before the weekly teaching, he said,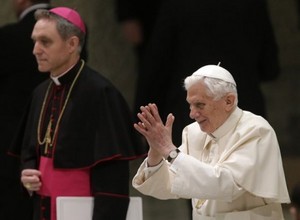 Dear brothers and sisters, as you know I decided. Thank you for your kindness. I decided to resign from the ministry that the Lord had entrusted me on April 19, 2005. I did this in full freedom for the good of the Church after having prayed at length and examined my conscience before God, well aware of the gravity of this act.
I was also well aware that I was no longer able to fulfill the Petrine Ministry with that strength that it demands. What sustains and illuminates me is the certainty that the Church belongs to Christ whose care and guidance will never be lacking. I thank you all for the love and prayer with which you have accompanied me.
I have felt, almost physically, your prayers in these days which are not easy for me, the strength which the love of the Church and your prayers brings to me. Continue to pray for me and for the future Pope, the Lord will guide us!
The catechesis the Pope offers us today…