With last the announcement last week about a study session of the new Rite of Exorcism seemingly many peoples' interest in the devil and evil soared. But I wonder if we all know the implications of having an interest in the "devil and evil" means. What it means is that we are in a spiritual battle with evil, a fact that is being spoken of more and more.
What are the Church's greatest needs at the present time? Don't be surprised at Our answer and don't write it off as simplistic or even superstitious: one of the Church's greatest needs is to be defended against the evil we call the Devil.
The papal address is not long and it covers topics of a Christian's vision of the universe, the mystery of evil, seeking answers to our questions, the biblical witness to evil and the Devil, the Devil's ability to tempt us, the peril of ignoring the Devil, the presence of diabolical actions and what our defense against the Devil means. Read what Pope Paul said.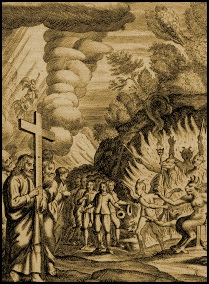 In his meditation of the second week of the Spiritual Exercises Saint Ignatius of Loyola presents to us "On the Two Standards" telling us we are faced with making a choice: "The one of Christ, our Commander-in-chief and Lord; the other Lucifer, mortal enemy of our human nature." Loyola places in front of us the choice of how we are going to live our lives, either for Christ or against Christ, either for good, or for evil. Why sell our soul for money, power and fame when the Lord offers us a life that's attractive and beautiful through the virtues of spiritual –and possibly in actual poverty, contempt for worldly honor and humility against pride? Poverty, whether spiritual and/or actual, obedience and humility are virtues that lead to all other virtue and everlasting life in Jesus Christ.