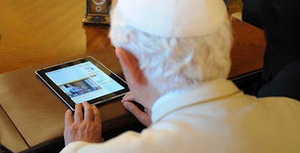 The Pope will tweet. Is this a mortal sin or a gospel value?

In today's L'Osservatore Romano edition Mario Ponzi
writes of Pope Benedict's latest venture into tweeting. The Pope is not going to give up his love of books, old fashion research and handwriting his talks, but he's diving into more deeply in the digital world. He'll have to keep his message
to 140 characters. Can he do it? I am sure the clarity of the Pope can be
limited to a mere 140 characters. It's ancient history now in cyberworld but it
was June 2011 that the Holy Father touched his own iPad launching the Vatican's


News.va

portal; tweeting in five languages
is a polymath way of

communicating
at the Vatican.
Archbishop Claudio Maria Celli, 71, president of the Pontifical
Council for Social Communications since 2007, last week delivered his keynote address at
the 100th anniversary of Our Sunday Visitor. Celli has been hardworking in
moving the Holy See into the 21st century with an acceptance of social media and its benefits for communicating the gospel effectively today.