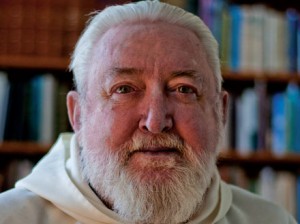 On November 11 in Jerusalem one of the world's best known scholars of the New Testament died, Dominican Father Jerome Murphy-O'Connor, 78. Father Jerry, as he was known, was certainly the best known priest in Jerusalem. He lived with poor health in recent years.
A tall man with a big personality was certainly a force to be reckoned with on all planes. He was certainly a provocative thinker, particularly on Saint Paul, was one who pushed the boundaries; but he was a man of trust in Divine Mystery. Some may say he was a modernist scholar; a keen interest was the real humanity of Jesus, especially as Jesus approached the crucifixion. Hence, you may not agree with all things that he said, but one would hope that you'd do your own research and draw your own conclusions, but you can't dismiss out of hand professional and honest work. I certainly think history will show us that JMC was a on to something.
His last book was, Keys to Jerusalem: Collected Essays (Oxford, 2012).
I met Father Jerry at University of Notre Dame several years ago while he was there doing some teaching and lecturing in NT studies.
Several articles ought to be read:
May God be merciful to Father Jerome. May Our Lady and Saint Dominic guide Father to the Beatific Vision.