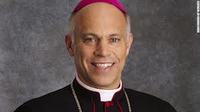 You know Salvatore Cordileone's name –he's the new archbishop of San Francsico. A high profile appointment made several weeks ago by Pope Benedict XVI. He was arrested for a DUI charge on August 25. He's admitted wrong-doing, spent 11 hours in jail, paid the bail and is due in court on October 9, just 5 days following his scheduled installation in SF.
He made a serious error in judgement. His Excellency needs to attend not only to his public persona but also to his spiritual life to make sure he's not abusing alcohol, his authority and power. No doubt he's brought on the Church and his person unwanted attention for such a matter as DUI where he could have injured or killed others. BUT this act in no way defines the man –it opens a new door for his conversion, that of others. The test of his acceptance of this grace will depend on him. By all reports Archbishop-designate Salvatore has cooperated with civil authorities.
The Christian community prays for Archbishop Cordileone. We pray for his recovery and for his witness.