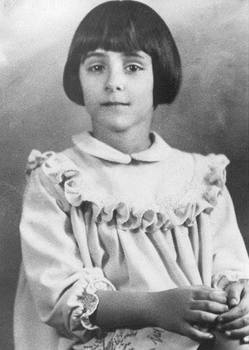 Today's the anniversary of death (1937) of the Venerable Servant of God Antonietta Meo. She is known by many in Rome as Nennolina. Meo is a six year old candidate for sainthood, indeed a very young girl apparently was in love with Jesus and united her suffering (from cancer) to that of the Lord's.
Actually I had forgotten about Nennolina's anniversary until I saw it noted on a "friend's page" on Facebook.
When I lived for a month with the Cistercians at Basilica of Santa Croce in Gerusalemme I came to know about this young sainthood candidate. I seem to recall that a family in Michigan and in Indiana was attributing a miracle through Meo's intercession. Since I've not been following the cause, I don't the state of her sainthood process except that Benedict XVI recognized her heroic virtues in 2007.
Antonietta Meo was a student of the Apostles of the Sacred Heart of Jesus in Rome.
Nennolina is buried in the Basilica of Santa Croce in Gerusalemme, the same place where the relics of the Holy Passion are located. She was baptized in this church and spent time in prayer there.
Read her letters.