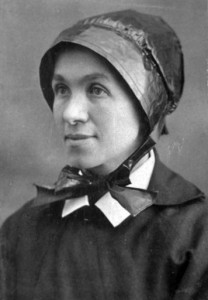 Sister Bladina Segale, a Sister of Charity of Cincinnati, is now being studied for possible canonization. Segale who died at the tender age of 91 in 1941. The Santa Fe Archbishop Michael Sheehan is handling the cause.
The AP story says Sister Segale "challenged Billy the Kid, calmed angry mobs and helped open New Mexico territory hospitals and schools."
She is the first from New Mexico to have a cause opened. The Sister of Charity was born in Cicagna, Italy, on January 23, 1850 and died on February 23, 1941. More of what the press is saying about Sister Bladina Segale can be found here.
If you are interested, you may want to find a copy of At the End of the Santa Fe Trail, a book containing the narrative and correspondence of Sister.
Sister Bladina joins a list many US citizens being considered for sainthood. Know, though, it could be several years before the advances since much work has to be organized and sanctity recognized. A Crisis Magazine article on Sister Bladina gives a good sense of who this woman is and her relevance for us today.