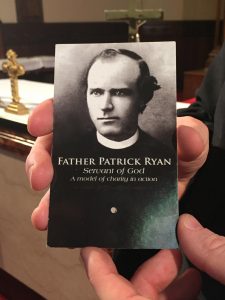 Sainthood causes are always very interesting to me. For one, they show how the Gospel and the Sacraments incarnated in a particular Church or a country. Every saint has a history and a personal spiritual genealogy given particularly by the Trinity for reasons of sanctification. The USA has several saints and blesseds, lots of venerables and servants of God. A recent one, Father Patrick Ryan, is the latest Servant of God.
Bishop Richard Stika of Knoxville, TN writes:
Yesterday (8/9/2016) I signed documents that God willing will lead to the eventual canonization of a priest who served in East Tennessee, Father Patrick Ryan. This remarkable priest, born in Ireland took care of the sick during an outbreak of Yellow Fever in Chattanooga during the 1870s. He served then at what is now known as the Basilica of Sts Peter and Paul. When others abandoned the sick, he stayed around but eventually he himself died from Yellow Fever. He was known for his holiness and pastoral care. I will share more in months ahead about the case of this man whom now is being considered for his holiness as a Saint of God. The Vatican has under recognized his holiness by allowing the process to begin. And so yesterday, with their approval and my signature giving my assent as the bishop, he is now known under the title of "Servant of God"!
Bring your prayer intentions to the Servant of God Father Patrick Ryan so that he will bring them to the Lord.