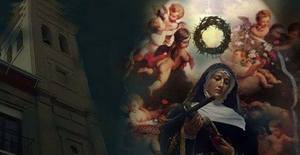 Saint Rita of Cascia is the patroness of impossible causes. Most have in their minds Saint Jude, patron of difficult cases. I think I need all the help I can get, and Saint Rita does "heavenly" work for me. I was privileged to visit her shrine in Italy a few years back.
Her story is an interesting one, often well forgotten if you don't known her. At twelve her parents engaged her marry Paolo Mancini, a man with anger issues, really, an abusive person. At 18 she married and gave birth to twin sons. Rita, though, had her eyes on the convent.
Rita's sanity, indeed, her sanctity, is demonstrated by the fact that somehow she mustered the strength to suffer Paolo's abuses for eighteen years before he was stabbed to death. Their sons wanted vengeance on their father's killers, but realizing that they'd lose the beauty of heaven, Rita prayed that they receive from God the grace to forgive the killers. The twins died before they could lose their souls.