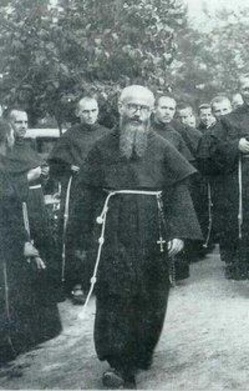 Come, you blessed of my Father, says the Lord. Amen I say to you: Whatever you did for one of the least of my brethren, you did it for me.
O God, who filled the Priest and Martyr Saint Maximilian Kolbe with a burning love for the Immaculate Virgin Mary and with zeal for souls and love of neighbor, graciously grant, through his intercession, that, striving for your glory by eagerly serving others, we may be conformed, even until death.
Saint Maximilian is clearly one of the 20th centuries most notable martyrs we have. I can think of anyone who has really followed so closely the entrance antiphon (noted above) than Kolbe.
Earlier today I had a visit from a friend, Brother Maximilian of Newark Abbey, who was visiting family. I am also reminded of Brother Maximilian of St Louis Abbey today, especially as he prepares to go to studies for the priesthood.