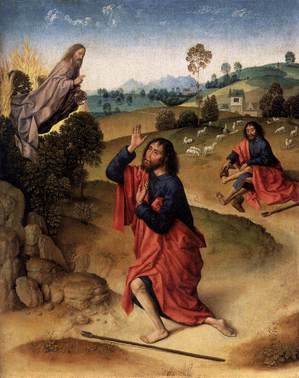 The Kontakian of the Byzantine Liturgy the Church prays,
With the divine and righteous Moses and Aaron, the Prophets' choir today rejoices with gladness, seeing their prophecy fulfilled now in our midst; for Your Cross, O Christ our God, whereby You have redeemed us,, shine in the sight of all as the end and fulfillment of that which they foretold in ancient times. By their entreaties, have mercy upon all of us.
The Church honors Old Testament figures liturgically, and today we recall Moses, a Holy Forefather. However, these Old Testament people do not appear on the Roman Calendar but they do in the Eastern Calendar. In the
Roman Martyrology
(an official liturgical book that catalogues the cult of saints, including the ecclesial acts of beatification and canonization) we find
Saint Moses
.
It is to Moses, whom we call a holy prophet and lawgiver. He was chosen by God to lead the oppressed people out of Egypt to the Promised Land. To Moses we learn that God has revealed Himself through the burning but unconsumed bush and it is on Mount Sinai through Moses that we learn God's name, "I Am Who I Am." It is through Moses that we receive the Law and "at a ripe old age" Moses died before entering the Promised Land and designed by God.
According to Catholic theology, Moses is an Old Testament type of Jesus, who in the Gospel of Matthew, is known as the "new Moses" and and is said to be Elias on Tabor at the Lord's Transfiguration.
Moses is a particular appropriate saint for Benedictines to know, follow, and imitate. His life and vocation to be a prophet –that is, a witness, to the encounter with God, ought to motivate us to a deeper call to seek the face of God. The Benedictine vocation to be present to the Divine Mystery in front of us.
So, yes, Catholics call Moses "saint."