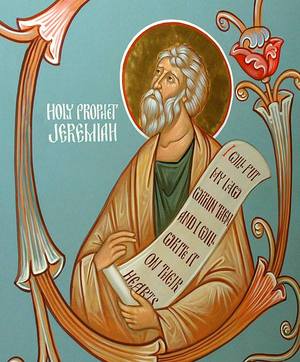 The Catholic Church places the Old Testament prophets, like Jeremiah, for example, as saints. The Roman Martyrology is the Church's official book listing the saints (the entry is below); typically the OT prophets are not commemorated at the altar.
Saint Jeremiah's Prayer for Protection
Heal me, O Lord, and I shall be healed. Save me, and I shall be saved, for You are my boast. Behold they say to me,"Where is the word of the Lord? Let it come." But I have not grown weary in following after You, nor have I desired the day of man. You know the words of my lips are before Your face. Do not be as a stranger to me, and spare me in the evil day. Let those who persecute me be put to shame, but I may not be ashamed. May they , but not I, be terrified. Bring upon them an evil day and crush them with a double destruction.
From the Roman Martyrology (2005), we read, 
Commemoratio sancti Ieremiae, prophetae, qui, tempore Ioachim et Sedeciae, regum Iudae, Civitatis Sanctae eversionem populique deportationem monens, multas persecutiones passus est, quam ob rem Ecclesia eum habuit ut Christi patientis figuram.  Novum aeternumque insuper Testamentum in ipso Christo Iesu consummandum praenuntiavit, quo Pater omnipotens legem suam in imo filiorum Israel corde scriberet, ut esset ipse iis in Deum et essent illi ei in populum.
A translation:
The Commemmoration of Saint Jeremiah the prophet, who in the days of Joachim and Zedekiah, Kings of Judah, warned of the sack of the Holy City and the expulsion of its people. He suffered such persecution that the Church holds him as a figure of the suffering Christ. He, moreover, prophesied the the new and everlasting testament would be perfected in Christ Jesus Himself in Whom the almighty Father would write His law in the very hearts of the sons of Israel, that He might be their God and they His people.