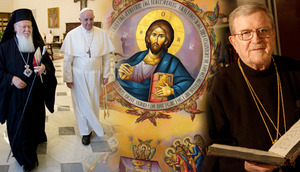 It is said that "The Eastern Churches have a special vocation in the contemporary world, which is both distinct from, and complementary to, that of the Western Church. Pope John Paul saw it thus, but he was not the only one. The language of the 'two lungs' of the Church suggests that the Church's activity in the world is much diminished when one of the lungs is operating at a reduced capacity – which it certainly is if it is not fully being what it is meant to be."
A vocation to serve the Churches, East and West, has been radically lived by a New England Province Jesuit priest, Robert F. Taft, for nearly a half-century. Christopher B. Warner published a terrific interview in the Catholic World Report, "Building Bridges Between Orthodox and Catholic Christians" is required reading to get a sense of the Church's teaching and life.
Father Taft was a professor of mine, and he remains an inspiration and mentor.