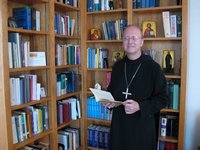 On November 11, 2008, Abbot Gregory Polan of Conception Abbey received the US bishops' positive vote for the liturgical use of the Revised Grail Psalter. The Grail Psalter was first published for liturgical use in 1963 and revised by Abbot Gregory and monks of Conception Abbey according to current translation principles including Liturgiam Authenticam (2001)
Recently, the whole project received what is called the "recognitio" from the Congregation for Divine Worship and the Disciple of the Sacraments (the Vatican office deputed by the pope to guide liturgical matters) in a March 19th letter to Bishop Arthur J. Serratelli, Bishop of Paterson and Chairman of the US Bishops' Committee on Divine Worship.
The reception of Vatican approval of these texts means that future liturgical books will use this translation of the Psalms.
Read Conception Abbey's press release on receiving the Vatican recognitio for the Revised Grail Psalter, which gives many of the interesting details of the work.
The Catholic Key Blog ran a story on the matter on Thursday, April 15, 2010.
Ut in omnibus glorificetur Deus, That in all things may God be glorified