Today's feast of The Holy Innocents has renewed meaning with the recent tragedy involving the death of 20 children in Newtown, CT on December 14. The entrance antiphon for Mass is rather startling (as is the Collect): "The innocents were slaughtered as infants for Christ; spotless, they follow the Lamb and sing for ever: Glory to you, O Lord."
So many violations of human dignity come to mind. Most notable resonances of recent days are the Newtown children, but there are also the countless of children aborted daily, the merciless killing of the elderly, sick, immigrants, and the list can go on. There is much work to protect human life.
Christmastide is filled with opportunities to recall those who died for Christ: Saint Stephen, the Holy Innocents, Saint Thomas Becket, CT little ones. The 16th century Coventry Carol, was sung as part of a pageant demonstrating chapter 2 of Matthew's Gospel where Herod kills male children under the age of two. The unknown author captures the scene perfectly, and even today it has a poignant message.
The Most Reverend Peter A. Rosazza published this editorial on his Facebook page: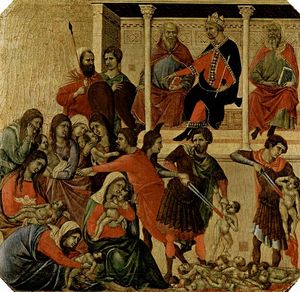 On December 28th
our church commemorates the massacre of the Holy Innocents by King Herod
shortly after the birth of Jesus. The Magi disturbed Herod when they asked him
where they could find the new-born King since they had been led by his star to
Jerusalem. Herod, jealous of his power, sent soldiers to kill all baby boys two
years of age and younger in Bethlehem and its surroundings. Some scholars
estimate the number at approximately twenty-eight.
Just two weeks earlier, on
December 14th, another massacre of innocents occurred. As we know, eight boys
and twelve girls, between the ages of six and seven, along with six women, were
executed by twenty-year old Adam Lanza who had first killed his own mother. The
principal of the school another woman ran toward him and were killed in the
process.