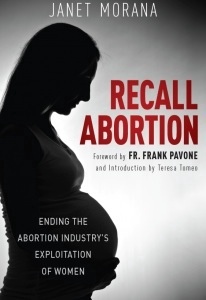 Perhaps this new book on myths of abortion contributes to what Pope Benedict calls "human ecology." In the days before the annual March for Life, Recall Abortion is fitting.
Recall Abortion, the first book by longtime pro-life
activist Janet Morana, examines the societal changes that led to legal abortion
and the lies that ensure it continues to be one of the most common medical
procedures for women. Through research, interviews with medical professionals
and testimonies of women who have had abortions, Morana takes apart the myth
that abortion is safe and necessary health-care and shows the abortion industry
for what it is: A profit-driven, unscrupulous and often criminal enterprise
that victimizes women.