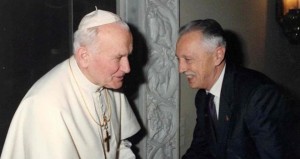 Pope John Paul wrote on hearing of the death of Jerome Lejeune on April 3, 1994 in a Rome hospital:
We are faced today with the death of a great Christian of the twentieth century, of a man for whom the defense of life became an apostolate. It is clear that, in this present world situation, this form of lay apostolate is particularly necessary… [He] has left the truly brilliant witness of his life as a man and as a Christian.
May Jerome Lejeune intercede for the work of the Culture of Life.