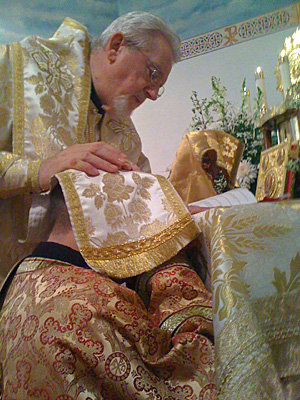 The are differences in how the Christian churches view priesthood. Generally speaking the priests of the Latin Church are celibate. But there are exceptions made for those who were formerly members of the Anglican Communion as married ministers who come into full communion with the Church of Rome. Then in many of the Eastern Catholic churches there are both married and celibate priests. In the USA, more of the Eastern Catholic priests are celibate due to an implementation of a rule imposed upon because of a strife between a Latin bishop and Eastern Catholics.
Eastern Christianity has had a long and venerable tradition of a married priesthood. Peggy Fletcher of the RNS wrote a very fine story on a family with priests "doing God's work with sincerity and earnestness" in "
Like father like son(s): Boys follow their father's calling
," (
The Washington Post
, July 1, 2013). I recommend reading the article.
I am not calling into question the valid spiritual discipline of a celibate priesthood in the Catholic Church; the celibate Catholic priesthood has a valuable spiritual tradition with good reasons for following in this manner. The point here is that among those in the Catholic Church and the Orthodox Church a man can validly follow the Lord as being married and being a priest. We have a history of it. Eastern Catholic Christians in the USA have been told by the authorities in Rome that a married priesthood is not possible. Certain biases are evident. American Eastern Catholic bishops say a married priesthood is part of the long, lived theological tradition –and it is part of canonical tradition– and that they ought to be free to ordain married men without issue. There are practical matters that always need to be accounted for, but one can say that both vocations, being married and being a priest, is possible. The article is less about a political statement than it is about the beauty of two vocations cohering well.