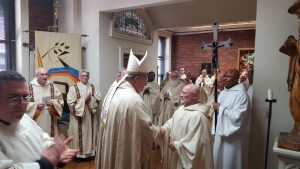 Waterbury, CT native DOM Maximilian Peter Buonocore, OSB, 60, was ordained priest of Jesus Christ today by Joseph Cardinal Tobin, CSsR, the archbishop of Newark.
The new priest, Father Maximilian, is a Benedictine monk of Newark Abbey. He's the first priest ordained there in a few decades.
The monks of Newark Abbey operate St. Benedict's Prep, St Mary's Grammar School and the priests assist locally in parishes and convents.
Father Maximillian's First Mass is Sunday at the Abbey.