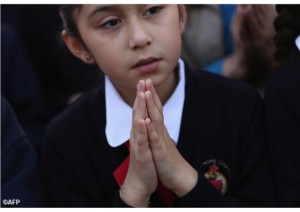 The chairman of the Committee of International Justice and Peace of the U.S. Conference of Catholic Bishops (USCCB), Bishop Richard E. Pates of Des Moines, Iowa, asked us to pray for peace in Iraq on Sunday, August 17.
The prayer noted below was written by the Chaldean Catholic Patriarch of Iraq, His Beatitude Louis Rafael Sako.
On arriving in Korea today, Pope Francis continued his call for peace in the Middle East, he prayed for a soul of a journalist killed in Gaza and for peace among Asian nations. Not long ago he said: "violence generates more violence; dialogue is the only path to peace." Prayer is the key to good public order.
Join us in prayer.
Lord,
The plight of our country
is deep and the suffering of Christians
is severe and frightening.
Therefore, we ask you Lord
to spare our lives, and to grant us patience,
and courage to continue our witness of Christian values
with trust and hope.
Lord, peace is the foundation of life;
Grant us the peace and stability that will enable us
to live with each other without fear and anxiety,
and with dignity and joy.
Glory be to you forever